A bed & breakfast without a decent breakfast is not a real bed & breakfast.
Therefore we have a decent and extensive French / continental breakfast buffet.
From Viennoiseries and French bread to freshly ground coffee and orange juice.
We understand that guests are not only hungry and thirsty during breakfast.
With the self-service bar, which is open day and night, we hope to be able to help the somewhat thirsty persons
T
he tables d'hôtes - the day menu - is suitable for all customers.
The daily menus are decent, extensive and of good quality.
The main dish consists of a decent piece of meat, several kinds of vegetables with potatoes or rice, etc (no chips).
A cheese board with local and the more unknown French cheeses.
The dessert with homemade and local desserts.
The following are used as much as possible for the meals:

local and fair trade products

eco-friendly ingredients
the best possible quality

homemade products
The tables d'hôtes always start between 7.30 pm and 8 pm
In the high season there is no tables d'hôtes on Thursdays

Petit déjeuner - Breakfast
Included in the room price
Monday to friday : 6.30 am to 9.30 am
Saturdays from :
7.30 am to 10.00 am
Sundays from : 7.30 am to 10.00 am

Minimum 2 types of (baguette) bread

Viennoiseries (croissant, chocolate bread, raisin bread...)

Coffee, tea, milk, chocolate milk

Fruit juice

Butter, jam, yogurt

T
oast, crackers, crispbread

H
am / cheese /
eggs / pancakes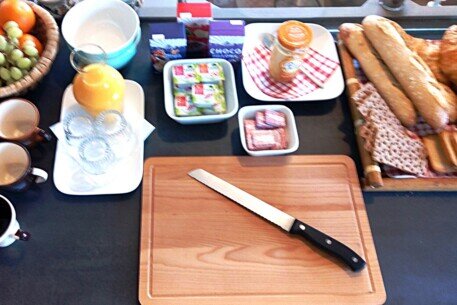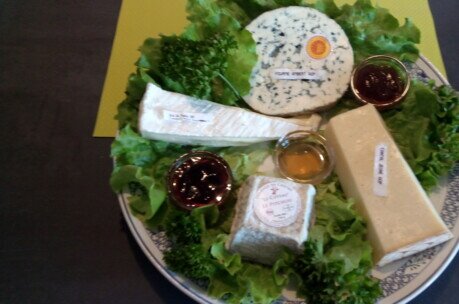 Book early to avoid disappointment

Menu of the day / week
Main course + cheese board
The main course :
- 150 to 200 gram of meat
- At least 2 kinds of vegetables
- Baked potatoes, gratin, rice or pasta (depending on the main course)
The cheese board :
- 4 to 6 special French cheeses, including some local cheeses
-

Mousse, ice cream, pastries, some are homemade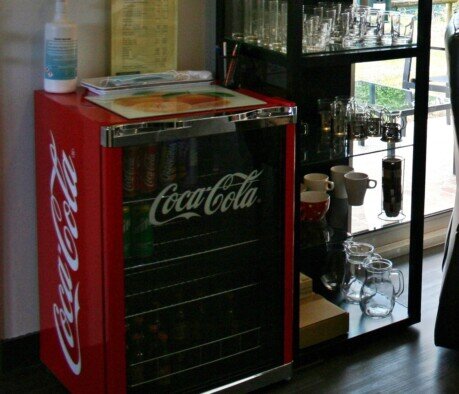 The self-service bar is open day and night
Checkout at the following breakfast

Soft drink 33 cl => 1,50
€

Fruit juice 25 cl => 1,50 €

Beer - 1664 33 cl => 1,50 €

Beer alcohol-free 25 cl => 1.50 €

Beer
- La Rainette
"Blonde" / "Blanche" / "Ambrée" 33 cl => 5,00 €
"Blonde" / "Blanche" / "Ambrée" 75 cl => 9,50 €

Wine
- St Sornin
Wine - red / white / rosé 25 cl => 3.00 €
Wine - red / white / rosé 50 cl => 5.50 €